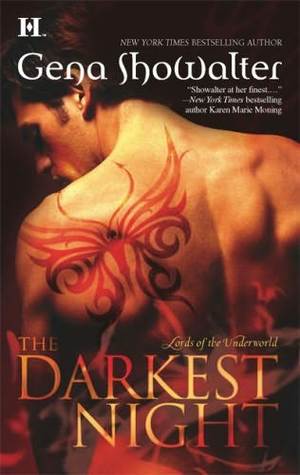 His powers - Inhuman...

His passion - Beyond immortal...
All her life, Ashlyn Darrow has been tormented by voices from the past. To end the nightmare, she has come to Budapest seeking help from men rumored to have supernatural abilities, not knowing she'll be swept into the arms of Maddox, their most dangerous member -- a man trapped in a hell of his own.
Neither can resist the instant hunger than calms their torments... and ignites an irresistible passion. But every heated touch and burning kiss will edge them closer to destruction -- and a soul-shattering test of love...
Though they carry an eternal curse, the Lords of the Underworld are irresistibly seductive -- and unimaginably powerful...
I've read most of Gena's Lords of the Underworld series a few years ago but I never wrote reviews for the books. Since I'm a few books behind now in the series, I decided to reread all the books, write reviews and finally catch up on the newer books. (I stopped with Strider's book, The Darkest Surrender.)
This story takes place in wintery Budapest. Maddox is an immortal Greek warrior and he's the keeper of Violence, which means he holds the demon of Violence inside his body. See, thousands of years ago, Maddox and his fellow warriors opened Pandora's Box and released all sorts of evil. Now each warrior has to keep a demon (the evil from the box) inside his body since the Box went missing. Each warrior took on characteristics of the demon but they got that under control, for the most part.
Anyway, he meets Ashlyn in present day as she climbs the mountain that the Lords' fortress is on. She's psychic and she can't stop the voices that plague her every day. She goes to Buda, to the Lords, to beg for their help. The connection between them is instant though they don't understand it. None of the men have brought a woman into the fortress, not even Paris who keeps the demon of Promiscuity (love him!), and Maddox's friends don't know what to do about Ashlyn. She brings chaos to the men and it's hilarious. They fall in love quickly but it's believable. Maddox is so gentle with her, even though he's obviously a violent man, and even the demon inside him falls in love with her.
We meet most of the other guys, learn bits and pieces of their history, and the next two books in the series are set up in this book. I don't like the author's use of passive voice and I think this story, along with the series, would be much stronger if she wrote in active. Since I like this story a lot, I won't take a star off for the passive writing.
This is a great starter to an awesome series.
Disclaimer – I bought this book for my own enjoyment. I am not paid or compensated in any way, shape or form for this honest review. I will not change or alter this review for any reason unless at my discretion.